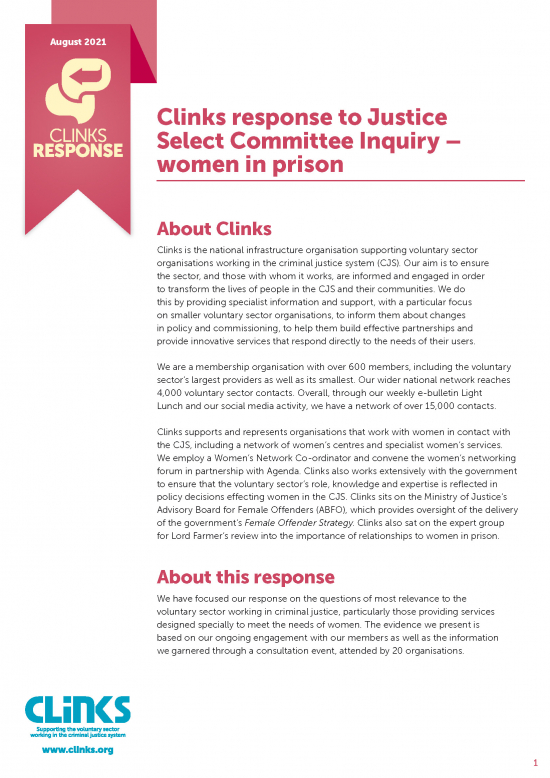 Clinks response to Justice Select Committee Inquiry – women in prison
Clinks submitted evidence to the Justice Committee's Inquiry into Women in Prison. The evidence we presented is based on our ongoing engagement with our members as well as the information we garnered through a consultation event, attended by 20 organisations.
Alongside many points, Clinks detailed its support for some of the commitments made in the Female Offender Strategy published in 2018, but raised concerns around the financial package available. Unfortunately, our concerns have been realised and we are disappointed at the lack of sustainable, long term funding dedicated to the implementation of the strategy's commitments and the resultant slow rate of progress. In addition, women's centres, as recognised in the Female Offender Strategy, provide essential services and support for women in contact with the criminal justice system. Although we recognise that many women's centres have been successful in gaining contracts through the Dynamic Framework, these contracts do not and should not provide all the funding women's centres need to deliver their services. Clinks was disappointed with the Ministry of Justice's (MoJ) announcement in January 2021 that it was planning to expand the women's prison estate with an additional 500 places to be built onto existing prisons. During our consultation event to inform this response, organisations told us that in many cases support for mental health is often not provided soon enough with voluntary organisations reporting people waiting up to five weeks for an initial assessment, or support only being provided once women reach crisis point.
Clinks made a number of recommendations in its response. It is essential that any future grants programmes led by the MoJ are proportionate and offer funding on a longer term basis for organisations. A 'whole prison' approach should be taken towards mental health and wellbeing, responding to the individual needs of the whole prison population by ensuring that a wide range of tailored services are available to meet the needs of different groups of people in prison. We also recommend that the MoJ publishes more in-depth data and information, including the modelling it has used to inform the decision to expand the women's prison estate by 500 places. The voluntary sector working in the criminal justice system has a strong track record of delivering holistic and trauma-informed services to support people's mental health in prison, and these services should be commissioned and sustainably funded.