Logo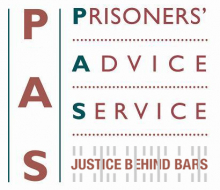 The Prisoners' Advice Service provides free legal advice and representation to adult prisoners in England and Wales regarding their rights, and regardless of the individual prisoners' means. PAS aims to educate and empower prisoners regarding the law and their legal and human rights.
---
Contact
Address
Prisoners' Advice Service
PO Box 46199
London
Greater London
EC1M 4XA
United Kingdom
Email
advice@prisonersadvice.org.uk
Website
http://www.prisonersadvice.org.uk
---
In Brief
Organisation type
Voluntary and Community Sector
---
Contract History
Supporting information
We receive over 25,000 phone calls to our prisoners advice line every year.
We send out 3,700 Bulletins to prisoners and partners containing useful case summaries.
We receive 4,000 letters from prisoners every year.
We have recently published a set of self-help toolkits, detailing some legal procedures that prisoners may be able to undergo themselves to 124 prison libraries. We also published Easy-Read versions of these to aid with accessibility.
Our most recent data shows that 96% of women who attended our outreach sessions were either very or fairly satisfied with the advice they were given; 94% found the advice either very or fairly easy to understand; 98% would consider using PAS again and 80% were either certain or likely to recommend PAS to others.
In respect of specific women's cases: 100% were either very or fairly satisfied with our advice; 100% found it very or fairly easy to understand: 100% said they were treated fairly and 100% would recommend us to other prisoners.
Partner organisations
Women In Prison
The Howard League for Penal Reform
Lancaster University
The Prison Reform Trust
---
Regions
East
East Midlands
London
North East
North West
South East
South West
Wales
West Midlands
Yorkshire and the Humber
---
---
Fields of Work
Advice & advocacy
Case management
Disability
Education
Family support
Legal advice
Mental health
Other
Peer support
Race
Resettlement
Volunteering
---
People you work with
Black, Asian & minority ethnic people
Faith groups
Families
Foreign nationals
Gypsies & Travellers
Immigration detainees
Lesbian, gay, bisexual people
Men
Older people
People with disabilities
People with English as a second language
Prisoners with short sentences
Refugees & asylum seekers
Remand prisoners
Serious offenders
Sex offenders
Transgender people
Women
Young people
---
Specialist BAME services
Black
Black British
Black African
Black Caribbean
Indian
Pakistani
Bangladeshi
Chinese
Asian Other
Arab
Irish
Gypsy or Irish Traveller
Roma
Foreign Nationals
Dual Heritage
---
---