Logo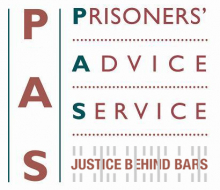 The Prisoners' Advice Service provides free legal advice and representation to adult prisoners in England and Wales regarding their rights, and regardless of the individual prisoners' means. PAS aims to educate and empower prisoners regarding the law and their legal and human rights.
---
Contact
Address
Prisoners' Advice Service, PO Box 46199, Greater London, EC1M 4XA, United Kingdom
Email
advice@prisonersadvice.org.uk
Website
http://www.prisonersadvice.org.uk
---
In Brief
Does the organisation involve volunteers with experience of the criminal justice system?
Organisation type
Voluntary and Community Sector
---
Regions
East | East Midlands | London | North East | North West | South East | South West | Wales | West Midlands | Yorkshire and the Humber
---
Fields of Work
Advice & advocacy | Case management | Disability | Education | Family support | Legal advice | Mental health | Other | Peer support | Race | Resettlement | Volunteering
---
People you work with
Black, Asian & minority ethnic people | Faith groups | Families | Foreign nationals | Gypsies & Travellers | Immigration detainees | Lesbian, gay, bisexual people | Men | Older people | People with disabilities | People with English as a second language | Prisoners with short sentences | Refugees & asylum seekers | Remand prisoners | Serious offenders | Sex offenders | Transgender people | Women | Young people
---
Specialist BAME services
Arab | Asian Other | Bangladeshi | Black | Black African | Black British | Black Caribbean | Chinese | Dual Heritage | Foreign Nationals | Gypsy or Irish Traveller | Indian | Irish | Pakistani | Roma
---
---
Prisons
All prisons | Altcourse | Ashfield | Askham Grange | Aylesbury | Bedford | Belmarsh | Birmingham | Blantyre House | Brinsford | Bristol | Brixton | Bronzefield | Buckley Hall | Bullingdon | Cardiff | Channings Wood | Chelmsford | Coldingley | Cookham Wood | Dartmoor | Deerbolt | Doncaster | Dorchester | Dovegate | Dover | Downview | Drake Hall | Durham | East Sutton Park | Eastwood Park | Edmunds Hill | Elmley | Erlestoke | Everthorpe | Exeter | Featherstone | Feltham | Ford | Forest Bank | Foston Hall | Frankland | Full Sutton | Garth | Gartree | Glen Parva | Grendon | Guys Marsh | Haslar | Haverigg | Hewell | High Down | Highpoint | Hindley | Hollesley Bay | Holloway | Holme House | Hull | Huntercombe | Isis | Isle of Wight | Kennet | Kirkham | Kirklevington Grange | Lancaster Farms | Leeds | Leicester | Lewes | Leyhill | Lincoln | Lindholme | Littlehey | Liverpool | Long Lartin | Low Newton | Lowdham Grange | Maidstone | Manchester | Moorland | Morton Hall | New Hall | North Sea Camp | Northallerton | Northumberland | Norwich | Nottingham | Oakwood | Onley | Parc | Pentonville | Peterborough | Portland | Prescoed | Preston | Ranby | Risley | Rochester | Rye Hill | Send | Spring Hill | Stafford | Standford Hill | Stocken | Stoke Heath | Styal | Sudbury | Swaleside | Swansea | Swinfen Hall | The Mount | Thorn Cross | Usk | Verne | Wakefield | Wandsworth | Warren Hill | Wayland | Wealstun | Werrington | Wetherby | Whatton | Whitemoor | Winchester | Wolds | Woodhill | Wormwood Scrubs | Wymott
---