Logo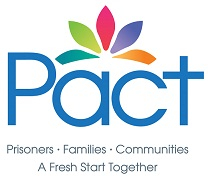 Pact is a national charity that provides support to prisoners, people with convictions and their families. We support people to make a fresh start, and minimise the harm that can be caused by imprisonment to people with convictions, to families and to communities.

Pact works in over 65 prisons and 8 CRCs and provides prison-based family engagement workers, Visitors' Centres, visitor support, supervised play, catering and family activities, relationship and parenting education programmes, court and community family support, 'Through the Gate' family resettlement support and community based mentoring and befriending programmes.

We also run the HMPPS contracted national Prisoners' Families Helpline which can be reached seven days a week on 0808 808 2003.
---
Contact
Address
29 Peckham Road
London
Greater London
SE5 8UA
United Kingdom
Website
http://www.prisonadvice.org.uk
---
In Brief
Organisation type
Voluntary and Community Sector
Legal status
Company limited by guarantee
---
Contract History
Supporting information
Pact's services have been externally evaluated and their impact measured as follows:
• University of Roehampton, 2012 which found that 74% of participants showed a significant improvement in risk of self-harm, improved behaviour, understanding family consequences of their actions, building positive relationships and facilitating the joining up of services across the children and families pathway.
• New Economics Foundation, 2011 which found that for every £1 invested, a return of £11.41 was made primarily from reductions in reoffending but also in terms of social services and health, childcare, housing and unemployment costs during the immediate period of their engagement.
• A matched pair analysis through the MoJ Data Laboratory found that re-offence rates for those attending our Building Stronger Families course were 19% as opposed to 29% within the comparator cohort.

Partner organisations
Sodexo
Probation Trust: Devon & Cornwall Probation, Manchester Probation Trust, Sussex & Surrey Probation Trust and Kent Probation Trust
Prisons: Everthorpe, Wetherby, Forest Bank, Werrington, Stafford, Drake Hall
Prisons: Swansea, Cardiff and Usk/Prescoed
Prisons: Whatton, Gartree and Nottingham
Prisons: Brixton, Wandsworth, Pentonville and Feltham
Prisons: Maidstone, the Sheppey Cluster, Bronzefield, Bullingdon, Down View and Woodhill.
Pact is also the Framework provider for Family Engagement Workers across England and Wales with a consortium comprising of: Jigsaw, NEPACS, POPS
---
Regions
East
East Midlands
London
North West
South East
South West
Wales
West Midlands
Yorkshire and the Humber
---
---
Fields of Work
Advice & advocacy
Case management
Faith
Family support
Holistic services
Lobbying & campaigning
Mediation
Mentoring & befriending
Other
Parenting skills
Peer support
Personal development
Prisons
Resettlement
Service user involvement
Through the gate
Training
Visitors centre
Volunteering
---
People you work with
Children
Families
Men
Prisoners with short sentences
Serious offenders
Sex offenders
Women
Young people
---
---
---