Logo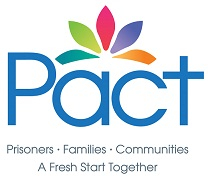 Pact is a pioneering national charity that supports prisoners, people with convictions, and their children and families. We provide caring and life-changing services at every stage of the criminal justice process: in court, in prison, on release, and in the community, based on a public health model of practice.

We work in more than 60 prisons and provide prison-based family engagement and social workers, Visitors' Centres, visitor support, supervised play, catering, family activities, relationship and parenting education programmes, court and community family support, resettlement support and community-based mentoring and befriending programmes. Our volunteers and staff can be found in courts, prisons, probation services, and in communities across England & Wales.

We also run the HMPPS contracted national Prisoners' Families Helpline which can be reached seven days a week on 0808 808 2003.
---
Contact
Address
29 Peckham Road
London
Greater London
SE5 8UA
United Kingdom
---
In Brief
Organisation type
Voluntary and Community Sector
Legal status
Charitable incorporated organisation
---
Contract History
Evidence reports
https://www.prisonadvice.org.uk/research
Supporting information
Pact's services have been externally evaluated and their impact measured as follows:
• University of Roehampton, 2012 which found that 74% of participants showed a significant improvement in risk of self-harm, improved behaviour, understanding family consequences of their actions, building positive relationships and facilitating the joining up of services across the children and families pathway.
• New Economics Foundation, 2011 which found that for every £1 invested, a return of £11.41 was made primarily from reductions in reoffending but also in terms of social services and health, childcare, housing and unemployment costs during the immediate period of their engagement.
• A matched pair analysis through the MoJ Data Laboratory found that re-offence rates for those attending our Building Stronger Families course were 19% as opposed to 29% within the comparator cohort.

---
Regions
East
East Midlands
London
South East
North East
North West
South West
Wales
West Midlands
Yorkshire and the Humber
Remote
---
Area covered
National - England and Wales
---
Fields of Work
Advice & advocacy
Attitudes, thinking and behaviour
Case management
Collaboration and partnership working
Education
Employment
Evaluation and effectiveness
Faith
Holistic services
Lobbying & campaigning
Mediation
Mental health
Mentoring & befriending
Sentence management
Other
Parenting skills
Peer support
Personal development
Prison reform
Prisons
Relationships
Research & academia
Resettlement
Restorative justice
Lived experience involvement
Suicide and self-harm
Through the gate
Training
Visitors centre
Volunteering
---
People you work with
Children
Families
Men
People on a short sentence
People convicted of serious offences
People convicted of sexual offences
Women
Young people
---
---
---