Logo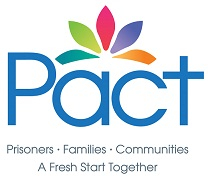 Pact is a national charity that provides support to prisoners, people with convictions and their families. We support people to make a fresh start, and minimise the harm that can be caused by imprisonment to people with convictions, to families and to communities.

Pact works in over 65 prisons and 8 CRCs and provides prison-based family engagement workers, Visitors' Centres, visitor support, supervised play, catering and family activities, relationship and parenting education programmes, court and community family support, 'Through the Gate' family resettlement support and community based mentoring and befriending programmes.

We also run the HMPPS contracted national Prisoners' Families Helpline which can be reached seven days a week on 0808 808 2003.
---
Contact
Address
29 Peckham Road, Greater London, SE5 8UA, United Kingdom
---
In Brief
Does the organisation involve volunteers with experience of the criminal justice system?
Organisation type
Voluntary and Community Sector
---
Regions
East | East Midlands | London | North West | South East | South West | Wales | West Midlands | Yorkshire and the Humber
---
Fields of Work
Advice & advocacy | Case management | Faith | Family support | Holistic services | Lobbying & campaigning | Mediation | Mentoring & befriending | Other | Parenting skills | Peer support | Personal development | Prisons | Resettlement | Service user involvement | Through the gate | Training | Visitors centre | Volunteering
---
People you work with
Children | Families | Men | Prisoners with short sentences | Serious offenders | Sex offenders | Women | Young people
---
---
---
Prisons
Askham Grange | Aylesbury | Belmarsh | Bristol | Brixton | Bronzefield | Bullingdon | Cardiff | Coldingley | Downview | Drake Hall | East Sutton Park | Eastwood Park | Elmley | Erlestoke | Foston Hall | Gartree | Grendon | High Down | Huntercombe | Isis | Leyhill | Lindholme | Long Lartin | Low Newton | Lowdham Grange | Moorland | New Hall | Nottingham | Pentonville | Prescoed | Send | Spring Hill | Styal | Sudbury | Swansea | The Mount | Usk | Wandsworth | Whatton | Woodhill | Wormwood Scrubs
---
Probation Areas
Devon & Cornwall | Greater London | Greater Manchester | Kent | Surrey & Sussex | Wales