Logo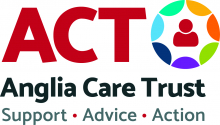 Anglia Care Trust (ACT) is a charity dedicated to supporting vulnerable people, having worked with offenders, ex-offenders and their families for over 40 years. There are 3 core themes to our work: Helping people to keep a roof over their heads; Helping people to be heard; Helping people to feel safe.

In achieving this, we deliver a range of interconnected support services, inclusive of: Intensive Support; Floating Support; Advice; Guidance; Advocacy; Mediation; Housing; Alcohol Recovery; and Domestic Abuse Services.

---
Contact
Address
Unit 8, The Square
Martlesham Heath
Ipswich
Suffolk
IP5 3SL
United Kingdom
Help Line No.
0800 977 5690 (Domestic Abuse)
Email
admin@angliacaretrust.org.uk
---
In Brief
Organisation type
Voluntary and Community Sector
---
Contract History
Supporting information
ACT has delivered consistent and sustained growth over several years and established a successful track record in both the performance management of contracts and the delivery of outcomes. The evidence of our success is that contracts are being extended and renewed.

We offered a Payment by Results (PbR) element to our successful tender for the Suffolk Offender Accommodation Project, at the first annual review targets were exceeded and the PbR element released.

ACT has a long and successful track record in delivering services, both within the community and prisons. We are particularly well networked within Suffolk and have close working relationships with agencies working in neighbouring counties.

Our credibility and integrity is such that local and national agencies are approaching us to form collaborative arrangements and our infrastructure enables us to be flexible in our response and to be in a position to either act as a lead contractor or sub-contractor.

---
---
---
Fields of Work
Advice & advocacy
Domestic & sexual violence
Family support
Finance, benefits & debt
Housing & homelessness
Mediation
Mental health
Mentoring & befriending
Physical health
Volunteering
---
People you work with
Children
Families
Men
Serious offenders
Sex offenders
Victims
Women
Young people
---
---
---