Logo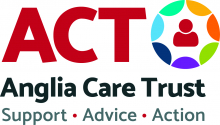 Anglia Care Trust (ACT) is a charity dedicated to supporting vulnerable people, having worked with offenders, ex-offenders and their families for over 40 years. There are 3 core themes to our work: Helping people to keep a roof over their heads; Helping people to be heard; Helping people to feel safe.

In achieving this, we deliver a range of interconnected support services, inclusive of: Intensive Support; Floating Support; Advice; Guidance; Advocacy; Mediation; Housing; Alcohol Recovery; and Domestic Abuse Services.

---
Contact
Address
Unit 8, The Square, Martlesham Heath, Suffolk , IP5 3SL, United Kingdom
Help Line No.
0800 977 5690 (Domestic Abuse)
Email
admin@angliacaretrust.org.uk
---
In Brief
Does the organisation involve volunteers with experience of the criminal justice system?
Organisation type
Voluntary and Community Sector
---
---
Fields of Work
Advice & advocacy | Domestic & sexual violence | Family support | Finance, benefits & debt | Housing & homelessness | Mediation | Mental health | Mentoring & befriending | Physical health | Volunteering
---
People you work with
Children | Families | Men | People convicted of serious offences | People convicted of sexual offences | Victims | Women | Young people
---
---
---
---