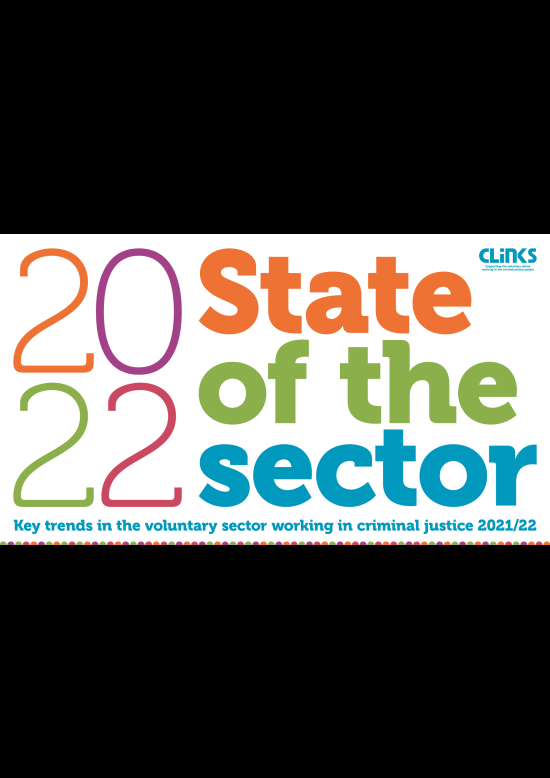 State of the sector 2022
How the voluntary sector emerged from the Covid-19 pandemic into an increasingly challenging operational environment
This is the ninth year that Clinks has carried out research into how criminal justice voluntary organisations are faring. This report reflects the views of organisations in the sector and provides a snapshot of the 2021/22 financial year.
State of the Sector 2022 explores the landscape of the sector as it emerged from the height of the pandemic and continued operating in an increasingly challenging operational environment. In summarising the findings, the report identifies four areas of particular interest.
The people voluntary organisations support
The number of people criminal justice voluntary organisations support is increasing, and the level, complexity, and urgency of their needs continues to grow.

Organisations are working flexibly and in partnership to respond to changes, but larger caseloads are becoming a concerning feature.
How organisations delivered their services
Organisations have returned to delivering face-to-face services, retaining elements of remote delivery where this best meets people's needs.

While staff and volunteer numbers appear to have stabilised, volunteering has not returned to pre-pandemic levels and staff recruitment remains challenging.

Organisations are involving people with lived experience in their leadership and delivery.
Financial sustainability
Organisations reported an overall increase in funding, but this should be viewed in the context of pandemic recovery, and the current and future challenges facing the sector.

The cost of living crisis is driving up organisations' operating costs.

Organisations are more positive about their experiences of grant funding than contracts.

Flexible, unrestricted, multi-year grant funding is essential for stability.

Funding from philanthropic funders remains vital to preserving the diversity of the sector and ensuring the sustainability of small and specialist organisations.

Achieving full cost recovery on contracts is an ongoing and increasing challenge.
Long-term sustainability
Staff levels remain stable but recruiting skilled and experienced staff is increasingly challenging.

Organisations were broadly positive about their long-term sustainability, but it is concerning that smaller organisations were less optimistic.

Some of the key factors identified by survey respondents for sustainability included developing new services, working in partnership, flexible multi-year grant funding, and a strong and connected sector.

These factors are even more important for smaller organisations.