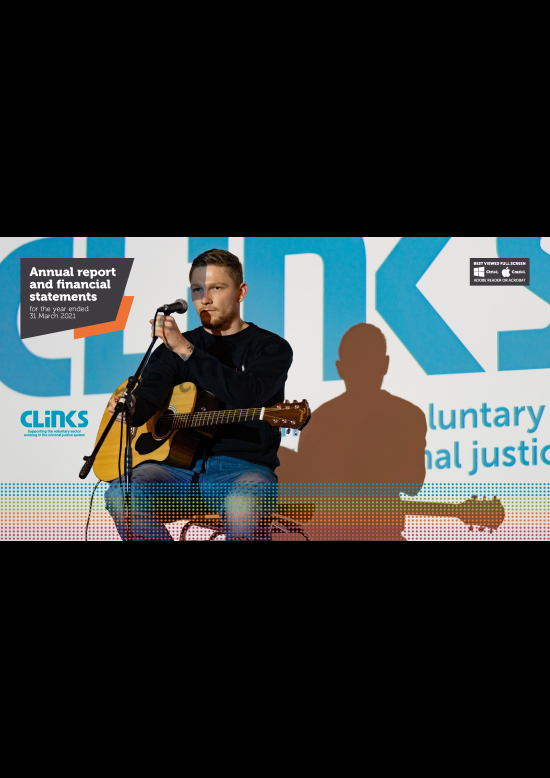 Annual report and financial statements for the year ended 31st March 2021
The trustees present their annual report and the audited financial statements.
Our annual report details our achievements and progress towards our goals in the second year of our three year strategy, plus our plans for the future, set out across our five strategic objectives, followed by a financial review.
On behalf of voluntary organisations working in the criminal justice system, and our 600+ members, our activities included responding to:
The impact of Covid-19
Brought small and specialist organisations across England and Wales together to support them and each other whilst delivering their services in the pandemic.
Built strong partnerships with HMPPS staff to get the information organisations needed, support them to adapt to new ways of working, and advocate for them.
Raised the voices of organisations though our research on its impact and influenced government officials with our findings.
Provided £463,500 across 90 grants, on behalf of MoJ/HMPPS.
The reforms to probation
Influenced the reforms which successfully led to the voluntary sector emerging as the main partner.
Gave one-to-one support and information to members grappling with the complex commissioning process
Held 21 events to get organisations ready to take part.
Provided 50 organisations led by and focussed on racially minoritised people with consultancy support.
Our ambition to become an antiracist organisation
Began working towards our aspiration to make Clinks a truly antiracist organisation in all we say and do, and how we operate internally and externally.
Changed our language around race and racism to ensure that it challenges – and doesn't reinforce – racist policies, ideas and structures.
We welcomed over 5,000 attendees across 114 events during the year. Our communications programme included over 40 publications, 91 ebulletins to over 20,000 subscribers, social media delivered to over 25,000 followers, dedicated Covid-19 web page giving up to date information, and a huge range of content on our blog, which also supported the #NeverMoreNeeded campaign calling for financial support for charities in the pandemic.
Download the report to learn more about what we did in 2020-21 and our plans for the future.