Introduction
Our prison system is under constant pressure due to the high numbers of people in prisons and an aging infrastructure. Imprisonment represents the greatest cost in the criminal justice system. Fewer prison officers, overcrowding, drug use, violence, self-harm, suicide and a lack of adequate rehabilitation are all issues in need of urgent attention.
Prisons in England and Wales
There are 121 prisons in England and Wales. Since their creation, local communities have worked inside the prison walls to support those in custody. Today, there are thousands of voluntary sector staff and volunteers playing a key role in supporting the reduction of reoffending, helping families and children impacted by imprisonment and working through the prison gate to resettle people back into the community when they are released.
All prisons fall under Her Majesty's Prison and Probation Service (HMPPS). Through HM Prisons Service they manage public sector prisons and the contracts for private prisons in England and Wales. View HMPPS's organisational structure.
Of the 121 prisons, there are 14 contracted out to the private sector, 10 women's prisons and 87 resettlement prisons. The aim, but not the reality, is for all prisoners to spend the last three months of their sentence in their local resettlement prison so that release plans can be properly developed. The Ministry of Justice target is to ensure that at least 80% of adult men will be released from these resettlement prisons.
This prisons map shows the location and type of prisons in England and Wales. Click on the map for more information, including the prison areas and the names of the Executive and Prison Group Directors.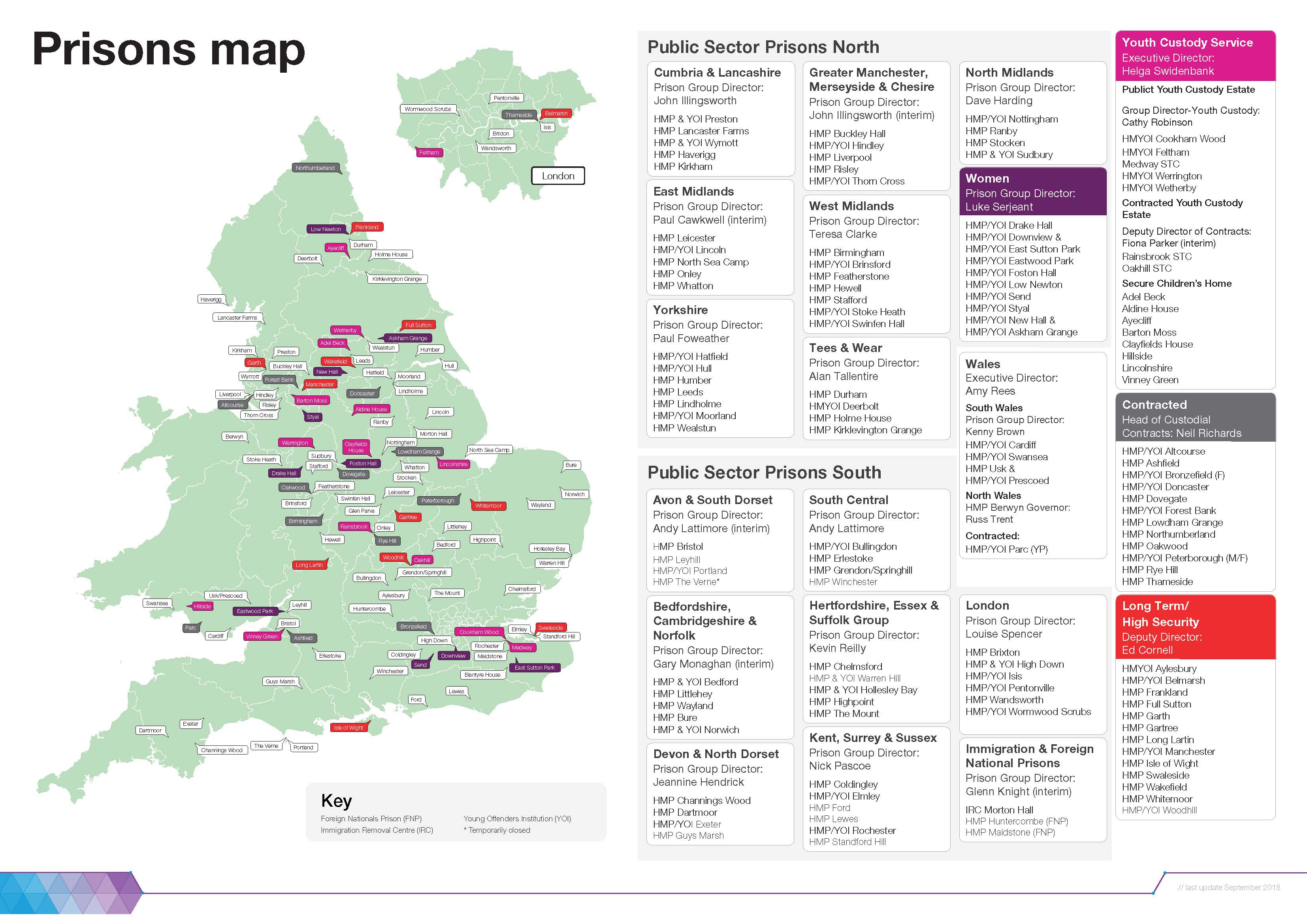 Our members
There are a vast number of voluntary organisations that work in and with prisons, supporting those in custody and their families, and helping individuals turn their lives around. Voluntary organisations have a long history of providing services to the prison community. 56% of organisations contributing to our latest State of the sector research work in prison with people who have been sentenced. Recent staff shortages, coupled with an increasingly volatile prison environment, has meant our members are finding it increasingly difficult to get access to the prison in order to deliver their services. Clinks seeks to make prison staff aware of the benefits our members bring to the prison and prisoners so that staff prioritise giving them access. 
Voluntary organisations have substantial knowledge and expertise about the local communities they work in, the individuals they work with and the strategies needed to meet need. Our members have successfully pioneered and developed long term, flexible and person centred approaches that support the process of desistance from crime, ensuring that services and interventions do not just address immediate needs, but work towards the long-term goal of an individual successfully integrating back into the community.
Our Directory of services holds information on voluntary organisations working in prisons. Some prisons have their own directory of services listing the organisations they work with.
Read Clinks case studies showcasing the innovative work of our members working in prisons.
Clinks thinks
Reduce the prison population
Prison has a place in the criminal justice system, reserved for the most serious of crimes and the protection of the public. However, a significant number of our prison population is held for non-violent crimes. The money spent on these prison places would be better used for services in the community, which genuinely support rehabilitation. These include mental health services, drugs and alcohol support, quality housing and getting people a job.
The best way to reduce reoffending, and make communities safer, is to increase the use of early intervention, prevention and alternatives to custody – getting people the right support as early as possible.
Clinks thinks the Ministry of Justice should develop a clear strategy for reducing the number of people in prison by increasing investment in preventative services, diverting people away from the criminal justice system and expanding the use of alternatives to custody. 
What Clinks is doing
The Dynamic Purchasing System
There are various ways that organisations can secure contracts to provide services in the criminal justice system. The most likely opportunity for voluntary organisations is through the Dynamic Purchasing System (DPS). It is an online application process enabling prisons to commission more niche education services – such as training, skills, and art therapies - directly from local providers.
Feedback has indicated that many voluntary organisations are unaware of the DPS – in part due to its rollout coinciding with Covid-19 and lockdown, but also due to the system being perceived as inaccessible and a lack of available guidance. Clinks has therefore published a Guide to the Dynamic Purchasing System, outlining how it works and how voluntary organisations can successfully access commissioning opportunities directly from local prisons.
Training: working and volunteering in prisons
Are you new to working in prison? Do you want to work in a prison but not sure where to begin? Or do you want a better understanding of the prison environment? 
We run a one day course to raise awareness of the prison environment and enable voluntary organisation staff and volunteers to have meaningful and professional engagement with prisons, in their shared care of those in custody. This highly participative day, led by an experienced trainer, covers a wide range of topics. It will combine theory, individual reflection and practical guidance on working in prison and with prisoners. Browse our events to find upcoming sessions you can book places at. Contact events@clinks.org if you would like more information or if you would like us to run a session for your organisation. 
Voluntary sector coordination in prisons
Between September 2016 and October 2017, Clinks supported a voluntary organisation member of staff in three prisons to implement a model of voluntary organisation coordination, reflective of the needs of each prison's population. We worked in partnership with EDP Drug and Alcohol Services, Volunteer Centre Dorset, HMP Dartmoor, HMP Exeter and HMP Guys Marsh, to support good engagement between the prisons and the voluntary organisations.
Through better coordination of voluntary organisation provision, the three prisons reported improved safety and more effective rehabilitation and resettlement services, enhanced prisoner knowledge of, and access to, voluntary organisation support and a more strategic role for the voluntary organisations in the prisons.
As a result, there are now tailored, sustainable models of coordination in each of the three prisons, which have been co-designed with key stakeholders, including prisoners.
Clinks is keen to continue to support this model in individual prisons and in partnership with prison governors. We believe it has the potential to have a positive impact on the work of each prison.
We have developed a stepped approach to help prisons adopt and deliver good practice, with three levels of activity to fit each prison's capacity. Download The Good Prison: Why voluntary sector coordination is essential for more information about this and the project's outcomes and recommendations.
Valuing volunteering in prison
This project explored the current state of volunteering in prisons, captured the views of individuals within the criminal justice system and collated good volunteering practices. The focus was on how we can increase the amount and scope of prison volunteering across England and Wales. Find out more on our volunteering and mentoring page.
The Farmer Reviews
In 2016, Lord Farmer, working in partnership with Clinks, was commissioned to chair an independent review to investigate how supporting men in prison in England and Wales to engage with their families can reduce reoffending and assist in addressing intergenerational crime. In 2018, Lord Farmer reviewed the recommendations of his review through the lens of the needs of women in contact with the criminal justice system. Read more about our work with Lord Farmer on our families page.
Advising the Ministry of Justice
Clinks provides the chair and secretariat for an advisory group to the Ministry of Justice (MoJ). The Reducing Reoffending Third Sector Advisory Group's (RR3) purpose is to build a strong and effective partnership between voluntary organisations and the MoJ.
In February 2016, the then Minister for Prisons and Probation, Andrew Selous asked the RR3 to provide information on how voluntary organisations can be engaged in the government's programme of prison reform and contribute to reducing reoffending. In this paper, the RR3 sets out key issues and ideas that we believe will support voluntary organisations engagement with the prison reform programme.
Other sources of support
A list of all prisons in England and Wales, their contact details, the operators, functions, resettlement service providers and more.
You can find out the number of people in prison, along with other statistics related to prisons and the criminal justice system in the latest Bromley Briefing prisons factfile, published by the Priso…