Logo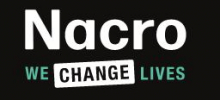 As an established charity with almost 50 years of experience, Nacro has been repositioning itself as a champion of social justice which continues to put crime prevention and reduction at its core.

We are evolving to meet society's changing needs and support a wider range of individuals. We use our knowledge and experience to help the most vulnerable in the community to change their lives and to reach their full potential and aspirations. We do this by addressing social exclusion, inequality of opportunity and deprivation.

Throughout England and Wales we deliver interventions which are consistently high quality, evidence based and outcome focused so that we can maximise our impact in communities.

We offer a range of vocational courses that lead to qualifications and employment.
---
Contact
Address
Walkden House, 16-17 Devonshire Square, Greater London, EC2M 4SQ, United Kingdom
Email
business.development@nacro.org.uk
---
In Brief
Does the organisation involve volunteers with experience of the criminal justice system?
Organisation type
Voluntary and Community Sector
---
Regions
East | East Midlands | London | South East | North East | North West | South West | Wales | West Midlands | Yorkshire and the Humber
---
Fields of Work
Advice & advocacy | Alcohol & drugs | Attitudes, thinking and behaviour | Case management | Collaboration and partnership working | Disability | Education | Employment | Family support | Finance, benefits & debt | Holistic services | Housing & homelessness | Lobbying & campaigning | Mediation | Mental health | Mentoring & befriending | Parenting skills | Peer support | Personal development | Physical health | Prison reform | Prisons | Probation reform | Relationships | Resettlement | Service user involvement | Through the gate | Training | Volunteering
---
---
---
---
---
Probation Areas
Avon & Somerset | Bedfordshire | Cambridgeshire & Peterborough | Cheshire | Cumbria | Derbyshire | Devon & Cornwall | Dorset | Durham Tees Valley | Essex | Gloucestershire | Greater London | Greater Manchester | Hampshire | Hertfordshire | Humberside | Kent | Lancashire | Leicestershire & Rutland | Lincolnshire | Merseyside | Norfolk | Northamptonshire | Northumbria | Nottinghamshire | South Yorkshire | Staffordshire & West Midlands | Suffolk | Surrey & Sussex | Thames Valley | Wales | Warwickshire | West Mercia | West Yorkshire | Wiltshire | York & North Yorkshire