Logo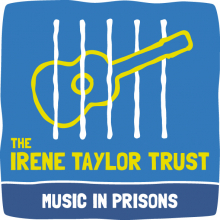 The Irene Taylor Trust 'Music in Prisons' delivers creative music projects which focus on the creation of new and innovative music. Projects are accessible to everyone regardless of musical experience, and aim to raise the self-confidence and aspirations of men, women and young people in prisons and those in the community who may be at risk of coming into contact with the criminal justice system.
---
Contact
Address
35-47 Bethnal Green Road, Greater London, E1 6LA, United Kingdom
Email
sara@irenetaylortrust.com
Website
https://irenetaylortrust.com
---
In Brief
Does the organisation involve volunteers with experience of the criminal justice system?
Organisation type
Voluntary and Community Sector
---
Regions
East | East Midlands | London | Lambeth | North East | North West | South East | South West | Wales | West Midlands | Yorkshire and the Humber
---
---
People you work with
Men | Prisoners with short sentences | Serious offenders | Women | Young people
---
---
---
Prisons
Askham Grange | Aylesbury | Brixton | Edmunds Hill | Erlestoke | Foston Hall | Frankland | Full Sutton | Haverigg | Holloway | Leeds | Low Newton | Lowdham Grange | Manchester | New Hall | Ranby | Risley | Rochester | The Mount | Thorn Cross | Wakefield | Wandsworth | Werrington | Wetherby | Wormwood Scrubs
---