Logo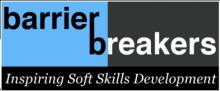 Our award-winning approach, BBM, helps people develop their soft skills (e.g. communication, self-motivation, time-management, team-working), improving employability and wellbeing. BBM produces quantitative evidence of the changes that are made.
We support organisations through our consultancy, using BBM Diagnostic to identify and remove barriers in systems and processes that stop organisations making the most of their people and doing their best work.
---
Contact
Address
74A Woodland Gardens , Greater London, N10 3UB, United Kingdom
Email
info@barrierbreakersfoundation.org
---
In Brief
Does the organisation involve volunteers with experience of the criminal justice system?
Organisation type
Voluntary and Community Sector
---
---
Fields of Work
Education | Employment | Personal development | Research & academia | Resettlement | Training
---
---
---
---
---