Logo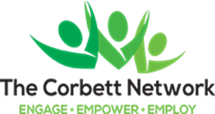 The Corbett Network for Prisoner Re-Integration is a coalition of charities, social enterprises, CICs, non-profit organisations and businesses with a social mission who work with those in prison and after release. These decision-makers are dedicated to reducing re-offending by helping people with convictions find and keep a job. Members also offer mentoring, coaching, training, and on-going support.
---
Contact
Address
96 Piccotts End, Herts, HP1 3AT, United Kingdom
---
In Brief
Does the organisation involve volunteers with experience of the criminal justice system?
Primary Field of Work
Collaboration and partnership working
Organisation type
Social Enterprise - non-profit
---
Regions
East | East Midlands | London | North East | North West | South East | South West | Wales | West Midlands | Yorkshire and the Humber
---
Fields of Work
Advice & advocacy | Attitudes, thinking and behaviour | Case management | Collaboration and partnership working | Commissioning | Counselling | Employment | Housing & homelessness | Legal advice | Lobbying & campaigning | Mentoring & befriending | Sentence management | Peer support | Personal development | Prison reform | Prisons | Probation reform | Resettlement | Restorative justice | Lived experience involvement | Through the gate | Training
---
People you work with
Racially minoritised people | Children | Ex-service personnel | Families | Foreign nationals | LGBTQIA+ | Men | Older people | People with disabilities | People on a short sentence | People on remand | People convicted of serious offences | People convicted of sexual offences | Victims | Women | Young people
---
Racially minoritised people specialist services
Asian, Asian British or Asian Welsh | Asian, Asian British or Asian Welsh: Bangladeshi | Asian, Asian British or Asian Welsh: Other Asian | Asian, Asian British or Asian Welsh: Pakistani | Black, Black British or Black Welsh | Black, Black British or Black Welsh: Caribbean | Black, Black British, or Black Welsh: African | Foreign Nationals | Other ethnic group: Arab | White: Irish
---
---
---