Back to job board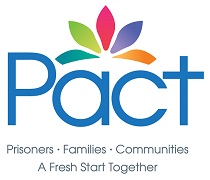 Prison Advice and Care Trust (Pact)
29 Peckham Road
London
Greater London
SE5 8UA
United Kingdom
More organisation info
---
Salary (full time equivalent)
As Family Engagement Worker, you will work as one of the Pact Family team, providing family casework support to prisoners, as well as support to the families of prisoners through advice and guidance, facilitating prison visits, and delivering family induction sessions.
About You:
To be successful in this role you will have demonstrable experience and understanding of working with families in a challenging multi-agency environment, ideally involving prisoners and/or their families. You will have the ability to advocate for families dealing with imprisonment, promoting their human rights and ensuring their needs are considered, and views are heard at all levels. You will have the ability to develop referral pathways for families, prisoners and other professionals to access the service. You may have experience of the following: Casework, Key Working, providing advice, guidance and emotional support to male service users.
You will act as a role model for volunteers and an ambassador for PACT, conducting yourself professionally at all time, with high standards of personal integrity and accountability. You need to be solutions-focused, adaptable, flexible, emotionally resilient and capable of managing multiple tasks in high stress environments.
What we offer:
Pact offers a range of benefits including a free advice, information and counselling service, contributory pension, corporate eye care scheme, cycle to work scheme and generous holiday entitlement. You will have the opportunity to attend training events to further develop yourself as a professional training and interventions worker. You will undergo a thorough induction process and be supported by a friendly and enthusiastic team.
Other information: 
Pact is an equal opportunity employer and welcomes all applications including those with a criminal conviction (appointment to post is subject to a risk assessment).
This post is subject to a 6-month probationary period, verification of identity and proven right to work in the UK, satisfactory references from previous employers covering a 3-year period, declaration of any unspent criminal convictions (and where appropriate a satisfactory risk assessment), Prison Vetting and a Disclosure and Barring Service check.  Please note that being bankrupt or having County Court Judgments may affect your ability to be successfully vetted to work in a prison.
---
How to apply for the job