Stakeholder Engagement & Referrals Lead
Back to job board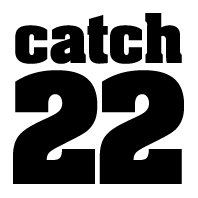 27 Peartree Street
London
Greater London
EC1V 3AG
United Kingdom
More organisation info
---
Salary (full time equivalent)
Location
Based at closest office with paid travel across Dorset, Devon, and Cornwall
Region
South West
Dorset
Devon
Cornwall UA
Stakeholder Engagement & Referrals Lead
At Catch22, we are proud of our reputation as a modern and progressive employer. Our 1,300 colleagues and 300 volunteers work at every stage of the social welfare cycle, supporting over 60,000 individuals from cradle to career. 
In Social Justice, we work with young people and adults in custody and in the community, providing a range of services including offender management and resettlement, mentoring, veterans in custody, victim services, gangs work and youth justice. We believe that with effective support mechanisms and the correct interventions, we can change service user's ideology, helping them desist from crime and reach their true potential.
Job Description
We have one full time or two part time vacancies available, to cover Dorset, Devon and Cornwall.  The base for the role will be the nearest of our offices to your location. 
The priority objective of the role is to generate a healthy pipeline of appropriate referrals of People On Probation (POP's) into to Catch22's CRS services to extend our reach & maximise the beneficiaries of our rehabilitative services.
The role aims to act as a conduit between Catch22's operational teams, Catch22 Management & HMPPS to enhance the effectiveness of our referral & engagement strategies. This will be achieved through ensuring a seamless referral pathway is maintained and that Probation Practitioners have a good understanding of Catch22's service offering.
This role will involve working in close partnership with internal departments along with external stakeholder from HMPPS, Voluntary Sector organisations and other Criminal Justice organisations to ensure we deliver our services and achieve the required outputs and outcomes.
Click here for full job description (right click to open in new tab)
Qualifications
The ideal candidate will possess the following:
A confident, professional & enthusiastic approach with the ability to influence and communicate with key stakeholders
Strong organisational, inter-personal and communication skills.
Ability to build and manage relationships, share knowledge and skills to deliver shared goals
Creative & solution focused individual with a 'can-do' approach 
Resilient, flexible & adaptable outlook
Willingness to work on a multi-site, multi-location basis
Logical, methodological & analytical outlook
Additional Information
Catch22 is recruiting a full-time and part-time Stakeholder Engagement and Referrals Lead to work across the South West region. 
These roles can be based in either Poole or Exeter and will involve frequent travel across the Dorset, Devon & Cornwall area.  Expenses will be covered from the base location. 
When applying for the position, please use the 'Message to Hiring Manager' section to confirm the location that you'd like to be based in (Dorset or Devon & Cornwall).
Contract: Fixed Term till 31.3.2024 (with possible extension)
Hours: 38 per week full-time 
Salary: £29,000 full-time
Benefits
28 days annual leave + bank holidays, rising to 33 days with service.
Pension scheme with matching contributions of up to 4%
Discounted shopping opportunities
Successful candidate will be subject to a DBS check & Level 1 HMPPS vetting 
Catch22 is committed to safeguarding and promoting the welfare of prisoners and expects all staff, volunteers and other third parties to share this commitment. Whilst Catch22 is a Ban the Box employer safer recruitment practice will be followed, and pre-employment background checks will be undertaken before any appointment is confirmed. This post is subject to HMPPS vetting.
See the benefits of working for Catch22 here.
Unless otherwise stated, interviews will be arranged as suitable candidates are identified, so early application is strongly advised.
At Catch22 we value equality, diversity and inclusion. We are wholeheartedly committed to the principle of equality of opportunity, both as an employer and as a provider of services. Diversity and Inclusion is part of what we do every day, working to deliver our vision to build a strong society where everyone has good people around them, a purpose, and a good place to live.
Within the Justice hub at Catch22 we are extremely proud of our strong focus and track record in developing our people. As of September 2022, 73% of our management group have progressed from frontline roles within Catch22, which allows us to offer progression opportunities for staff under the leadership of managers with frontline experience.
Catch22 is committed to rigorous safeguarding and safer recruitment practices; ensuring that every individual within the organisation has been safely and appropriately checked.
---
How to apply for the job
Please click here to apply (link takes you directly to relevant job).
Catch22 requests not to be contacted by agencies.